JENZ HM knife for JENZ HEM 560; HEM561; HEN 582; HEM 820; HEM593 wood chipper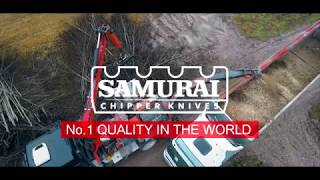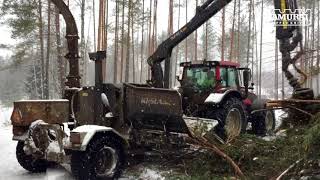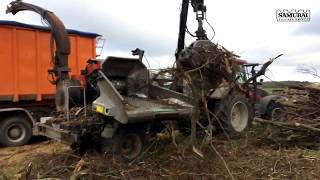 1/11
Location
Lithuania
Mickų km, Priekulės sen
Placed on
more than 1 month
Need delivery?
Calculate the cost of delivery
We manufacture chipper blades ( JENZ HM; MUS-MAX; BRUKS. PEZZOLATO, ALBACH DIAMANT , DOPPSTADT DH, JUNKKARI, DUTCH DRAGON; CBI; BANDIT; GREENTEC;FARMI; HEINOLA; MORBAK; Eschlböck BIBER ....)from custom made special tool steel with extremely low non metallic impurities, which makes the chipper blades both impact resistant (according to that parameter minimum 2-3 times better than knives from A8 modified steel) and abrasion resistant (about 15-20 % better than A8 modified steel).
According to the customers wishes, we also make blades from the steel A8 modified, D2 and other steels.
Chipper blades are exclusively made in our factory, quenched and tempered in computer controlled furnaces. The highest stability is the main benefit of our products.
In addition, to our customers we produce all wearing parts from friction-resistant steel HARDOX500 ( sieve, sheets...)
You can visit our web site:
show contacts
If we could get your drawing, we could offer You a competitive price of any type of blades.
We have the cost effective delivery routes from Lithuania to all over Europe. The cost of the delivery is just about 0,5-1 EUR/kg.
Wir fertigen Hackmesser aus Sonderanfertigung Spezialwerkzeugstahl mit extrem niedrigem Nicht
metallische Verunreinigungen, die die Hackmesser sowohl schlagfest machen (entsprechend
Parameter minimal 2-3 mal besser als Messer aus A8 modifiziertem Stahl) und abriebfest
(ca. 15-20% besser als A8 modifizierter Stahl).
Nach den Kundenwünschen machen wir auch Hackmesser aus dem Stahl A8 modifiziert, D2 und andere
stähle
Samurai- Hackmesser werden ausschließlich in unserer Fabrik hergestellt, abgeschreckt und gehärtet in Computer gesteuert öfen Die höchste Stabilität ist der Hauptvorteil unserer Produkte.
Zusätzlich zu unseren Kunden produzieren wir alle Verschleißteile aus reibungsbeständigem Stahl
HARDOX500 (Sieb, Blätter ...)
Sie können unsere Website besuchen:
show contacts
Wenn wir Ihre Zeichnung bekommen könnten, könnten wir Ihnen einen konkurrenzfähigen Preis für jede Art von Hackmesser anbieten.
Wir haben die kostengünstigen Lieferrouten aus Litauen in ganz Europa. Die Kosten der Lieferung beträgt ca.0,5- 1 EUR / kg.
Valmistamme hakkurinteriä tilaustyönä tehdystä työkaluteräksestä, joka sisältää erityisen alhaisen määrän ei-metallisia epäpuhtauksia. Siksi hakkurin terät ovat sekä iskunkestäviä (kyseisen parametrin osalta vähintään 2–3 kertaa A8-luokan työkaluteräksestä valmistettuja veitsiä parempia) että kulutuksenkestäviä (noin 15–20 % A8-työkaluteräksisiä vahvempia).
Asiakkaidemme toiveiden mukaisesti valmistamme teriä myös A8-, D2- ja muista teräslaaduista.
Hakkurien terät tuotetaan poikkeuksetta oman tehtaamme tiloissa, jossa ne nuorrutetaan ja karkaistaan tietokoneohjatuissa uuneissa. Tuotteidemme suurin valtti on niiden loistava kestävyys.
Lisäksi tuotamme asiakkaillemme kulutuosia (kuten siivilöitä ja levyjä) HARDOX500-kulutusteräksestä.
Voit vierailla sivustollamme osoitteessa:
show contacts
Kykenemme tarjoamaan kilpailukykyisen hinnan minkä tahansa oman piirroksenne mukaan valmistettavan terän osalla.
Omaamme kustannustehokkaat reitit ja kuljetukset Liettuasta kaikkialle Eurooppaan. Toimituksen hinnaksi tulee vain noin 0,5-1 €/ kg.
Nous fabriquons des couteaux ( JENZ HM; MUS-MAX; BRUKS. PEZZOLATO, ALBACH DIAMANT , DOPPSTADT DH, JUNKKARI, DUTCH DRAGON; CBI; BANDIT; GREENTEC;FARMI; HEINOLA; MORBAK; Eschlböck BIBER ....)et des lames pour les déchiqueteuses et les broyeurs de bois à partir d'acier instrumental avec très peu d'impuretés non métalliques. Cela confère aux couteaux une résistance aux chocs (ce paramètre est au moins 2 à 3 fois supérieur à celui de l'acier modifié A8) et augmente également la résistance à l'usure (environ 15 à 20% par rapport aux couteaux en acier A8).
À la demande du client, nous produisons également des couteaux à partir d'acier modifié A8, d'acier D2 et autres.
Les couteaux sont fabriqués uniquement dans notre usine, durcis au four avec une commande par ordinateur. Le plus haut niveau de stabilité est le principal avantage de nos produits.
De plus, à partir d'acier, résistant à l'abrasion, HARDOX 500, nous fabriquons pour nos clients des pièces d'usure (grilles de calibrage, tôles d'usure, pâles de ventilation etc.).
S'il vous plaît visitez notre site
show contacts
Selon vos dessins, nous pouvons offrir tout type de lames de déchiquetage à des prix compétitifs.
Nous avons des itinéraires de livraison économiquement avantageux de la Lituanie vers tous les pays européens. Le prix moyen de livraison est seulement d'environ 0,5- 1 €/kg.
Mes gaminame smulkintuvų peilius ( JENZ HM; MUS-MAX; BRUKS. PEZZOLATO, ALBACH DIAMANT , DOPPSTADT DH, JUNKKARI, DUTCH DRAGON; CBI; BANDIT; GREENTEC;FARMI; HEINOLA; MORBAK; Eschlböck BIBER ....) iš specialaus instrumentinio plieno su itin mažomis ne metalo priemaišomis, todėl smulkintuvų peiliai yra atsparūs smūgiams (pagal šį parametrą mažiausiai 2-3 kartus geresni nei A8 modifikuoto plieno peiliai) ir atsparūs dilimui (apie 15- 20% geriau nei A8 modifikuotas plienas).
Pagal klientų pageidavimus, gaminame peilius iš modifikuoto plieno A8, D2 ir kitų plienų.
Smulkintuvų peiliai yra gaminami tik mūsų gamykloje, grūdinami ir atlaidinami kompiuterių valdomose krosnyse. Didžiausias stabilumas yra pagrindinis mūsų produktų privalumas.
Be to, mūsų klientams gaminame visas dylančias smulkintuvų detales iš trinčiai atsparaus HARDOX500 (sietai, įdėklai, ventiliatoriaus sparnuotės ...)
Galite apsilankyti mūsų svetainėje:
show contacts
Pagal jūsų brėžinius galėsime pasiūlyti konkurencinę kainą bet kokio tipo smulkintuvų peiliams.
Mes turime ekonomiškai efektyvius pristatymo maršrutus iš Lietuvos į visą Europą. Pristatymo kaina yra tik apie 0,3 EUR / kg.
Wij vervaardigen hakselmessen gemaakt van speciaal aangepast gereedschapsstaal met extreem lage niet-metalen verontreinigingen, waardoor de hakselmessen zowel bestand zijn tegen impact (volgens die parameter minimaal 2-3 keer beter dan messen van A8 bewerkt staal) en bestand tegen slijtage (ongeveer 15-20 % beter dan A8 bewerkt steel).
Afhankelijk van de wensen van de klant maken wij ook messen van A8 bewerkt staal, D2 en ander staalsoorten.
Hakselmessen worden uitsluitend in onze fabriek gemaakt, gehard en getemperd in computergestuurde ovens. De hoogste stabiliteit is het belangrijkste voordeel van onze producten.
Daarnaast maken we voor onze klanten alle onderdelen die onderhevig zijn aan slijtage van wrijvingsbestendig, stalen HARDOX500 ( zeven, bladen...)
U kunt ook onze website bezoeken:
show contacts
Indien u ons een tekening stuurt, kunnen we u een scherpe prijs bieden op alle types hakselmessen.
Wij leveren via voordelige routes vanuit Litouwen in heel Europa. De verzendkosten bedragen niet meer dan ongeveer 1 EUR/kg.
Produkujemy noże ( JENZ HM; MUS-MAX; BRUKS. PEZZOLATO, ALBACH DIAMANT , DOPPSTADT DH, JUNKKARI, DUTCH DRAGON; CBI; BANDIT; GREENTEC;FARMI; HEINOLA; MORBAK; Eschlböck BIBER ....) specjalnej stali instrumentalnej o bardzo małych zanieczyszczeniach.
Taka stal jest odporna na wstrząsy (minimum 2-3 razy lepsza niż stal modyfikowana A8) i odporna na ścieranie (około 15-20% lepiej niż stal modyfikowana A8).
Produkujemy również noże ze stali modyfikowanej A8, D2 i innych rodzajów stali zgodnie z wymaganiami klienta.
Nóże "Samurai" są produkowane tylko w naszej fabryce, hartowane w sterowanych komputerowo piecach. Największa stabilność to główna zaleta naszych produktów.
Wszystkie pozostałe części rebakuw wykonane są ze stali hardox 500, która jest wyjątkowo odporna na ścieranie.
Naszą stronę internetową:
show contacts
Jeśli prześlesze swój rysunek, możemy zaoferować konkurencyjną cenę za każdy nóż.
Mamy tanie trasy dostaw z Litwy do całej Europie. Koszt dostawy to około 1 EUR / kg.
Мы производим лезвия для рубильных машин и измельчителей древесины ( JENZ HM; MUS-MAX; BRUKS. PEZZOLATO, ALBACH DIAMANT , DOPPSTADT DH, JUNKKARI, DUTCH DRAGON; CBI; BANDIT; GREENTEC;FARMI; HEINOLA; MORBAK; Eschlböck BIBER ....) из специальной инструментальной стали с очень низким содержанием неметаллических примесей, что делает ножи как ударопрочными (по этому параметру минимум в 2-3 раза лучше, чем ножи из модифицированной стали A8), так и износостойкими (примерно на 15- 20% лучше, чем модифицированная сталь A8).
По желанию заказчика мы также изготавливаем лезвия из модифицированной стали А8, стали D2 и др.
Рубильные ножи сделаны исключительно на нашем заводе, закалены в печах с компьютерным управлением. Высочайшая стабильность - главное преимущество наших продуктов.
Кроме того, для наших клиентов мы производим все изнашиваемые детали из устойчивой к трению стали HARDOX500 (сита, пластины, лопасти вентиляторов и др.)
Вы можете посетить наш веб-сайт:
show contacts
По вашему чертежу мы можем предложить вам конкурентоспособную цену на любой тип рубильных ножей.
У нас есть экономически выгодные маршруты доставки из Литвы по всей Европе. Стоимость доставки составляет всего примерно 0,5-1 евро/кг.
Important
This offer is for guidance only. Please request more precise information from the seller.
Safety tips
Seller's contacts
Arvydas Mackevicius
Languages:
Russian, Lithuanian
Donatas Ziogas - Sales Manager
Languages: English, Russian, Lithuanian
Vidas Panka - Export Manager
Languages: English, Russian, Polish, German, Lithuanian
Lithuania, Klaipėda County, LT-96361, Mickų km, Priekulės sen, Vaškių g. 42
Seller's local time: 09:40 pm (EET)
Selling machinery or vehicles?
You can do it with us!